Anita Madden never put her love for Ashland in review mirror
July 10 Derby on Delay event will feature Madden
ASHLAND, Ky. — Socialite, horse breeder and Derby party extraordinaire Anita Madden was a force to be reckoned with on many fronts. She knew how to throw an unforgettable party — something she managed to do annually for 40 years — and she was generous to a fault to those she knew well and even those with which she was merely acquainted.
Her events attracted thousands of attendees and are still spoken of in awe-struck and reverent tones by those who attended. They were extravagant and utterly fantastic. No expense was spared.
Madden's Derby eve parties weren't held simply for the sake of it, however, but to shift some focus toward Lexington (the home of most thoroughbreds).
While she had a great love and sense of civic duty to her home in Lexington, Madden was a native of Ashland. She was born on Feb. 3, 1933 to William and Orella Myers. She graduated from Ashland High School in 1950 before attending Western Kentucky University and the University of Kentucky.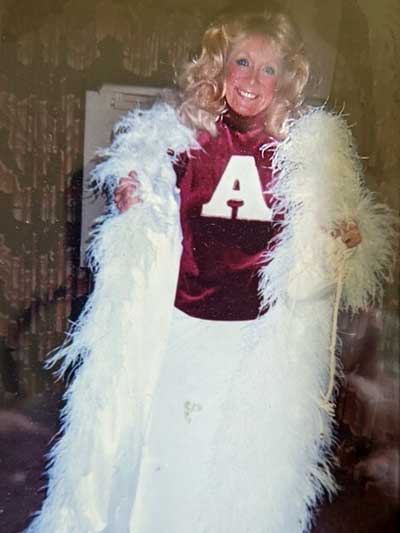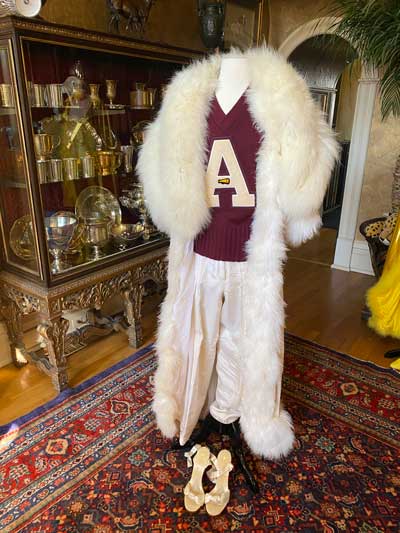 Above: The outfit on the right is the one Anita Madden wore as Grand Marshal of the Ashland Christmas Parade in 2000.

She had already developed quite the presence even in high school. Her senior yearbook said she was known for her "friendly smile and cheerful 'hello.'" She was a member of several clubs and organizations and was also an Ashland varsity cheerleader. During her senior year, she was voted the "Queen of Hi-Life," a position of great merit as it meant she was the "student body's idea of the ideal high school girl." Already she was garnering a taste for the spotlight as well as leadership.
Madden met future husband Preston, heir and grandson to horse breeder John Madden, while attending the University of Kentucky. They married in 1955 and she became a permanent fixture at the Madden family farm at Hamburg Place in Lexington.
Longtime Ashland tourism director Sue Dowdy recalled a memorable encounter with Madden when she had been selected as the Grand Marshal for the Ashland Christmas Parade in 2000.
"She was a wonderful Grand Marshal … people really appreciated her coming," Dowdy said.
In typical Madden fashion, she showed up dressed to the nines.
"She had a white ostrich feather coat made just for the parade. It was beautiful," Dowdy said. "She was flamboyant, but she was still from Eastern Kentucky, and she never forgot it. She was flamboyant to say the least and very attractive and of course had the means to dress like a million dollars."
The flatbed truck used for the review stand and dignitaries, Dowdy said, was often covered in spilled hot chocolate, given the often cold November temperatures. She recalled her concern as Madden walked across the bed of the sticky truck to take her seat, coat trailing along behind her.
"She just walked right through that," Dowdy said, "got her seat and didn't act like it bothered her a bit that that beautiful white coat was dragging through the hot chocolate. It was just a stitch. So we said, 'oh my goodness, Mrs. Madden.' She said, 'Oh don't worry about it, birds get wet.'"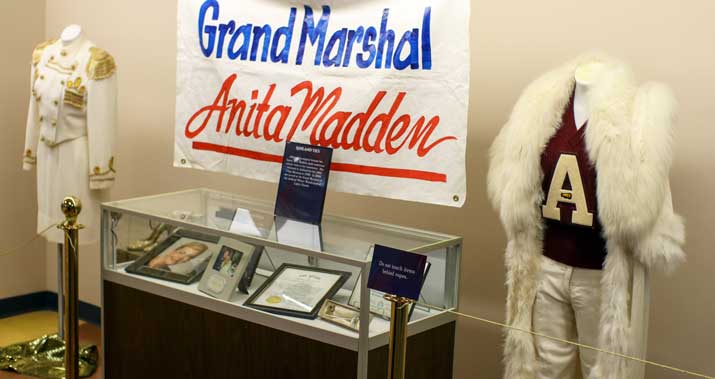 The Highlands Museum has a display dedicated to Anita Madden's 2000 Ashland Christmas Parade as Grand Marshal. It is part of the broader exhibit "Celebrating Anita Madden."
Madden had a deep connection to Ashland, not just through her family, but through close friends as well. Joy Griffiths was one such friend. They attended high school together and remained close friends until Madden died in 2018.
"Joy went down there to see her even when she was really, really sick," Dowdy said. "I guess they would just sit and talk because Anita wouldn't feel like doing anything."
Joy Griffiths' son, John, spoke of the relationship his mother had with Madden after high school.
"My mother was the Cadillac dealer here in town and on several occasions when Anita had a big event or was going somewhere or needed it, we had a Cadillac limousine she would use. When I became of age … I would take the limousine down to Hamburg, deliver it or whatever needed to be done at that particular moment."
But it was her generous nature he remembered more clearly. Especially considering he wasn't nearly as close to Madden as his mother was. In a story he told with an underlying chuckle, Griffiths recalled a stranger who called Madden claiming to be a friend of his.
"How this person knew that I knew Anita was beyond me, but she called me and found me in a condo in Canaan Valley."
The person who contacted Madden was looking to get bailed out of jail for a drunken altercation with a police officer.
"She was willing to go bail this person out of jail simply based on the fact that he called her and said he was a friend of mine. I had no idea who he was. I said 'Anita, I am so sorry. I have no idea who this person is or how in the world they knew that I knew you.' But she was willing to … she considered me a friend, or at least the son of a friend, and she was willing to go out and do it if I needed her to do … she would have gone out and done it."
In every piece written of her and in speaking with those who knew her, her generosity is always mentioned. She gave not just her money, but her time and compassion.
Madden may have lived the majority of her life in Lexington, 100 miles away from her hometown, but she never placed Ashland in her rearview.
"I think she probably came back to visit her close friends," Dowdy said. "I don't know how often. It wasn't always a public appearance."
Madden is making another appearance, of sorts, in Ashland. The Highlands Museum and Discovery Center currently has an exhibit all about Madden on display, featuring some of her dresses and other memorabilia from her Derby parties.
The museum will also be throwing a fundraiser "Derby on Delay" event on July 10 on the fourth floor Highlands Center. The party will emulate many of Madden's own Derby bashes and boast dinner, music and dancing. It will be an event to honor a true Kentucky lady and true Ashland native.
To make reservations for Derby on Delay, contact the museum directly at (606) 329-8888.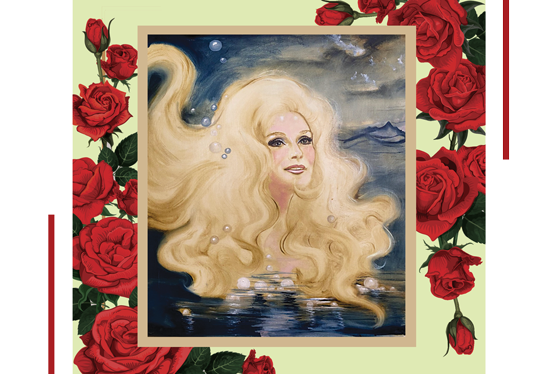 Celebrating the Derby Tradition
Anita Madden: Ashland Native, Socialite and Businesswoman
July 10, 2021 ~ 6-11 p.m. / Highlands Center