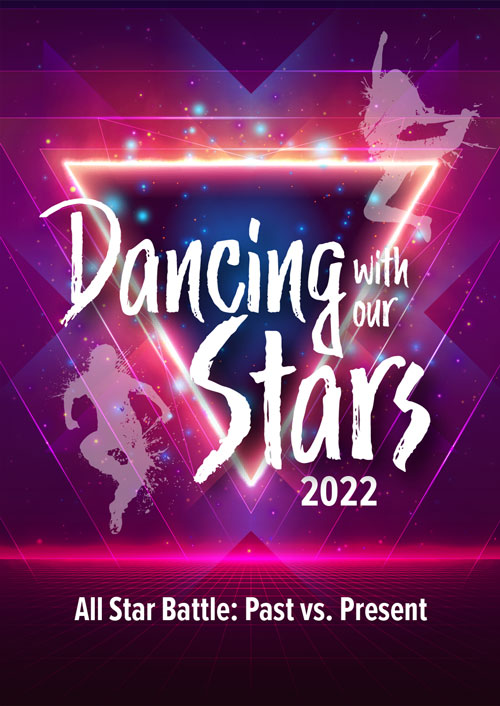 Dancing with Our Stars 2022
All Star Battle: Past vs. Present
Feb. 5, 2022 | Boyd County Community Center
The Highlands Museum & Discovery Center is excited to announce the eighth annual Dancing with Our Stars, featuring local celebrities and their partners competing for $1 votes to win the famous Mirror Ball Trophy. Five previous dancers return to compete with all new dancers.
This year's celebrity dancers and their partners are:
Couple #1: Laura Patrick and Wyatt Wheeler
Couple #2: Samantha Cleaver and Hunter Scott
Couple #3: April Perry and Alice Martin
Couple #4: Heather Moore and Greg Moore
Couple #5: Missy Rooper and David Markins
Couple #6: Viviane Khounlavong and Rick Payne
Couple #8: Faith Fountain and Garrett Campbell
Couple #1: Laura Patrick and Wyatt Wheeler
Couple #2: Samantha Cleaver and Hunter Scott
Couple #3: April Perry and Alice Martin

Couple #4: Heather Moore and Greg Moore
Couple #5: Missy Rooper and David Markins
Couple #6: Viviane Khounlavong and Rick Payne
Couple #8: Faith Fountain and Garrett Campbell
Event Agenda
• 6 p.m. — Cocktails
• 7 p.m. — Dinner
• 8 p.m. — Competition
• Followed by dancing to the sounds of Bravo Live
Gourmet Dinner provided by 3J Events and Catering (cocktail attire)
* All proceeds will benefit the Highlands Museum & Discovery Center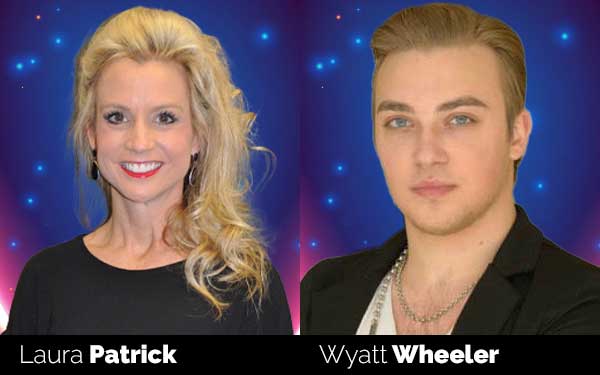 Laura currently serves as the Director of the King's Daughters Health Foundation. She is a 2004 graduate of Russell High School and attended the University of North Carolina-Chapel Hill on a golf scholarship graduating in 2008. Laura also has a master's degree in managerial communications from Bellevue University. Laura resides in Wurtland with her husband Jarred. Jarred is a pharmacist at McMeans in Ashland. In her spare time, she likes playing golf, exercising, shopping, and traveling. Although more comfortable on the golf course than the dance floor, Laura is both excited and honored to perform again on behalf of the Highland's Museum and Discovery Center.
Wyatt started dancing at a young age, he developed his skills at the Paramount Arts Center and then at Northern Kentucky University. Wyatt now living in the Greater Cincinnati area where he is the CEO of his own start-up Digital Marketing Agency, Wheeler Marketing & Consulting. Wyatt is looking forward to working with Laura and the Highlands Museum again, as well as dancing again.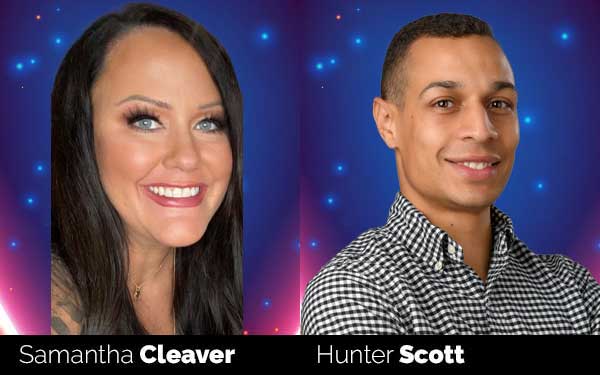 My name is Samantha Cleaver. I am a Family Nurse Practitioner employed by Molina Healthcare. I manage the Ironton and Ashland territory. Prior to this, I was employed by the Ashland Center for Women's Health working in OBGYN. I take pride in my attentiveness and responsiveness to the patients I care for. I am extremely compassionate and genuinely care about the overall health of my patients. I have 3.5 years experience as a Family Nurse Practitioner with a background in primary care, critical care / emergency medicine and OBGYN. I am currently certified through the American Nurses Credentialing Center (ANCC) and the Kentucky Board of Nursing. I am an advanced Cosmetic Injector at the L.E.O Medispa in Ashland, Ky. I pursued my interest in nursing, graduating with honors, at the University of Rio Grande and Walden University. I am a member of the American Association of Nurse Practitioners and the Kentucky Coalition of Nurse Practitioners and Mid Wives. Aside from my professional career, I enjoy spending time and being a mommy to my three greatest blessings, my children.
My name is Hunter Scott. I'm a 29-year-old Russell native. I'm a gymnastics instructor at Pride Athletics in Greenup, Kentucky, and assistant cheer coach of the 16x UCA National Champion, Greenup County High School cheerleaders. As a world champion myself, I strive to help all my athletes reach their full potential. In my free time I like to spend time with my nephew, Sterling.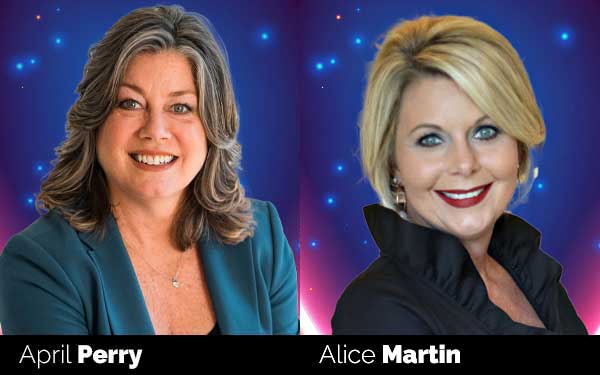 April Russell Perry, a native of Ashland Kentucky, is Chairman of the Board and CEO of Kentucky Farmers Bank (KFB). She graduated from Holy Family High School and went on to earn her BBA and MBA from Eastern Kentucky University. April and her husband Don have been married for 35 years and have two adult children, Connor and Kendall. April is passionate about financial literacy, regional economic development, and supporting her community. April enjoys cooking, gardening, hiking and of course…Dancing!
Alice Martin: I am a graduate of Boyd County High School and KY Banking School. I have been a banker for 24 years. I reside in Worthington, Ky with my husband Steve Martin, sales manager at General Sales Company, and our doodle Maci. In my spare time I love to travel, shop, and spend time with my friends and family. I also enjoy serving our community and have served on multiple boards in our area including CASA, Ashland Alliance, and Ashland Rotary. I competed in the 2020 Highlands Museum DWOS, and I am honored to dance again with my boss April!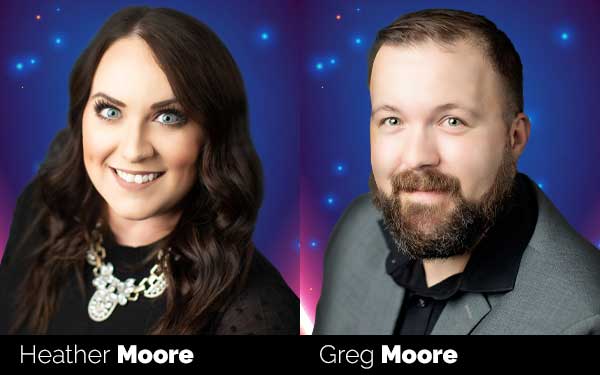 Heather Moore: As a born and raised Boyd County resident, I have always loved the area in which I live. Early in life, I knew I wanted to grow up giving back to our community. As I attended Fairview High School, I continuously volunteered in leadership organization that provided opportunities to grow. I received my bachelor's degree from Morehead State University in Elementary Education, followed by my master's degree in School Counseling. I've been blessed to serve the community for 11 years in education. I've spent the past three years as the School Counselor at Ponderosa Elementary School and continue to support the social and emotional needs of all our staff, students, and stakeholders. I've attended and supported Dancing with our Stars for many years, but this year I will have the honor of performing. While I am not a professional dancer, I am very skilled in shaking it with the family during home dance parties, at school events, or weddings! I am thrilled to share the stage with my husband as we work extremely hard to bring in as much support for the amazing Highlands Museum. My heart is in education, and I love the programs and educational opportunities the museum brings to our community. Being able to participate in this event means the world to me!
Greg Moore: I have worked at Kings Daughters Medical Center as a Physician Assistant, with Dr. Arthur Gaing, in Gastroenterology for 10 years. I graduated from Boyd County High School, then went on to attend the University of Kentucky where I received my bachelor's degree in Clinical Laboratory Science. After realizing I wanted to work with patients, I went back to the University of Kentucky to continue my education by receiving my master's degree in Physician Assistant Studies. As a father of two amazing children, Peyton and Mollie, I have had many informal experiences dancing. As for on stage, this will be my first time performing for a live audience, but with the help of my beautiful wife, I'm certain it will be an entertaining experience for all. I am excited to support such a wonderful cause that gives back to our community in so many ways.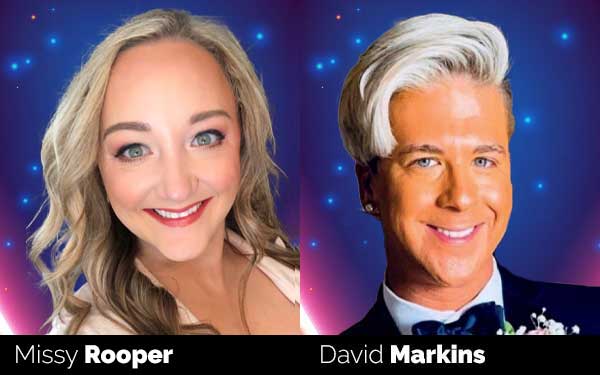 Missy Rooper: I work as the Chief Speech-Language Pathologist at Pathway's Center for Autism and Developmental Disabilities where I am part of a multidisciplinary team providing a full continuum of intervention to neurodiverse individuals. I also own and manage my own business, Rooper Speech Therapy Services LLC. This allows me to continue the work that inspired my passion and stay connected to early intervention through the Kentucky First Steps program. I am extremely humbled by the career I have in helping others, especially our wonderful world of pediatrics. I received both my bachelor's and master's degrees from Marshall University, where I was also a co-ed cheerleader for the Thundering Herd. I am a native West Virginian, but my loving husband and I have chosen to make Ashland, KY our home and are blessed to be a part of this community. As your 2020 DWOS mirror ball trophy winner, and I am honored and excited to rock the dance floor again this year!
My name is David Markins. I'm from Ironton Ohio and graduated from Ironton high school in 2010. I am a state and national baton twirling champion and competed with Cyndi's Studio in Ironton for 12 years. After high school I went on to graduate from Ohio University Southern. After that I was a majorette at Marshall University for 3 years while completing my cosmetology program at Bellefonte Academy of Beauty. I now work as a full-time cosmetologist at The Hot Spot Salon in Ironton Ohio as well as one of the coaches for the Ironton High School Majorettes and Flags.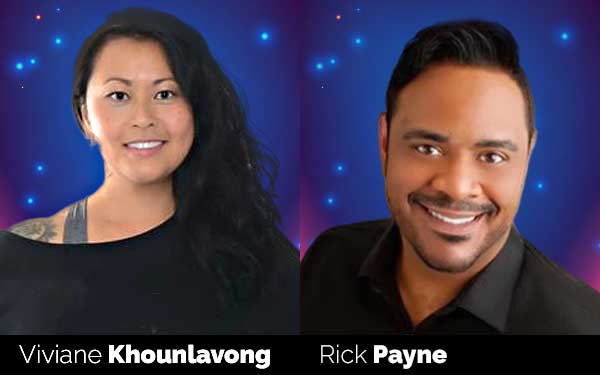 Viviane is a certified personal trainer, strength coach, reiki master and E-500RYT yoga instructor/therapist at Studio Dara Online and Tri-State Rehab/Preferred Fitness with over 10 years of experience. She's also well versed in a variety of arts including, Muay Thai and Thai Chi. Besides teaching yoga nationally (Tennessee, California, Texas, New York) and internationally (Ireland, China, New Zealand, France, Italy), she also serves as yoga therapist for several athletic departments including Marshall Athletics and Ironton Schools. An Ashland native, she currently lives in Ironton, Ohio with her 6-year-old daughter, Naly.
Rick Payne is very excited to be returning to perform in this year's Dancing with Our Stars. He was born in Ironton, OH, received his BA and BS from Ohio University, and his MA from the University of Dayton. Rick has sung and danced in many local events and theatrical performances. Some of his favorite former roles include Hairspray (Seaweed), Footloose (Chuck Cranston), Legally Blonde (Sandeep Padamadan/Nikos Argitacos), Grease (Johnny Casino/Teen Angel), Cats (Old Deuteronomy), and Rent (Tom Collins). Rick would especially like to thank his mother, additional family, and friends for their love and support.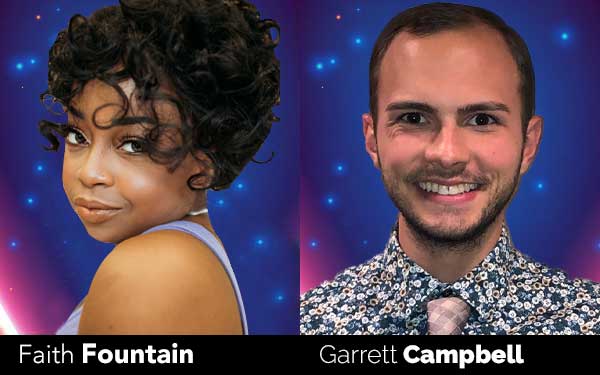 Faith Fountain is 33 years old and has a 7-year-old son, Noah, who is her whole world. Faith is an addictions and mental health therapist at Regroup. She volunteers her time at the Mill Café and Bakery as well on the weekends. she is currently working on her second masters for addictions counseling. She recently competed in the National United States Pageant as Ms. Kentucky, United States. She got top 8 and won Ms. United States People's Choice. She is currently serving Kentucky as Ms. Kentucky United States 2021. Her heart is giving, kindness, and she loves to cook, but her soul is dancing. Her secret weapon is that no one has seen her dance and she hopes to keep the suspense up. She is a first-time performer with Dancing with our Stars, and she can't wait for you to see her work it on the dance floor!
Garrett Campbell has been trained in dance with Yvonne DeKay School of Dance where he learned ballet, tap, and jazz. He can also be seen on the Paramount stage in a variety of different roles. He's excited to be working with Faith Fountain and looking forward to this year's competition.
About the Event
Dancing with Our Stars includes a cocktail hour at 6 p.m. with a gourmet dinner at 7 p.m. The competition begins at 8pm followed by dancing to music performed by Bravo Live.
Voting is available online via PayPal or at the museum with credit/debit card, check (made payable to the Highlands Museum & Discovery Center) or cash. Sponsored tables and individual reservations for Dancing with Our Stars are now on sale at the museum. Money spent on tables and individual seats count as votes, so let the museum know which couple you support.
For more information, sponsorship opportunities, and to purchase individual seats please call:
* All proceeds benefit programs and exhibits at the Highlands Museum & Discovery Center, a 501© (3) regional history and children's museum located at 1620 Winchester Avenue in Ashland, KY.
Reservations and Sponsorship Opportunities
Foxtrot Sponsorship – $6,000
Includes one table for 10 people with prime seating around the dance floor, digital advertisement rotating on the big screen, recognition on table cards and in the printed program, exclusive wait staff, plus your beverage of choice, and 6,000 votes for designated couple.
Waltz Sponsorship – $5,000
Includes one table for 10 people with select seating, digital advertisement rotating on the big screen, recognition on the table cards and in the printed program, and 5,000 votes for designated couple.
Jitterbug Sponsorship – $3,500
Includes one table for 10 people with select seating, digital advertisement rotating on the big screen, recognition on the table cards and in the printed program, and 3,500 votes for designated couple.
Cha Cha Sponsorship – $2,000
Includes one table for 6 people, digital advertisement rotating on the big screen, recognition on the table cards and in the printed program, and 2,000 votes for designated couple.
Amor Reservations – $550
Includes 2 tickets and digital advertisement rotating on the big screen, and 550 votes for your designated couple.
Individual Reservations – $150
150 votes for designated couple.
Digital Sponsorship and Recognition in the event program – $250
Digital ad rotation on the big screen and sponsorship recognition in the program. 250 votes for designated couple. Deadline for Digital Ads from sponsors deadline is January 15, 2020 – please send to Heather Whitman at heather@highlandsmuseum.com.

Please indicate any special dietary needs.
Please RSVP to the Highlands Museum.

Boyd County Community Center
15605 KY-180
Catlettsburg, KY 41129
(Located off the I-64 Cannonsburg Exit #185)
MAP & DIRECTIONS